We first considered external wall insulation with render then, because our neighbours were concerned about the change from brick walls and wouldn't give us permission to do the back wall of our house, we switched to internal insulation throughout.  The more we looked at internal insulation the more concerned we were with:
Loss of floor space

Loss of thermal mass
Increased risk of interstitial condensation (in the walls)
Steve Harris suggested we build a new brick wall around the house to form a second cavity.  The benefits of this approach are:
No loss of floorspace

Thermal mass of existing walls preserved
Much reduced risk of interstitial condensation
Some of our neighbours were concerned about introducing a step into the front wall so wouldn't give us permission to build a new wall at the front of the house.  The new external wall is limited to the back and side with internal insulation planned for the front wall.
Start on site:
We couldn't get a skip on site so decided to bag up the soil to make it easier to transport. We thought about using a micro digger but given the lack of space and obstacles decided it would be better dug by hand.
Digging the foundations by hand
To speed up the digging we hired an electric breaker to loosen the soil.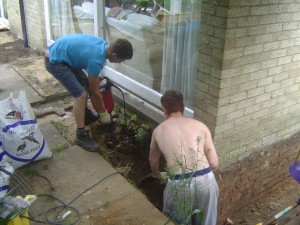 Rather than buy rubble sacks we approached a local farm to see if they had any spare sacks.  They were delighted for us to reuse the plastic feed bags as they otherwise pay to have them recycled.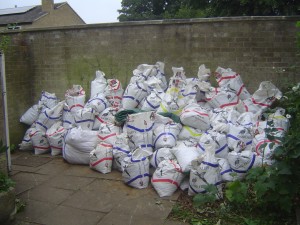 Access to our front door was a bit challenging at this stage.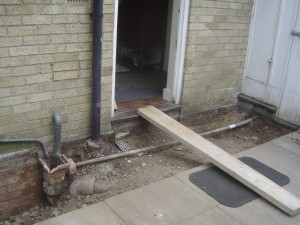 The new wall means the downpipe has to be moved.
To fix the new foundations to the existing we had to drill holes for steel bars to run between them.
We replaced the old copper mains water pipe with plastic.

Steel reinforcing bars and new mains water pipe
Waiting for the concrete mixer to arrive …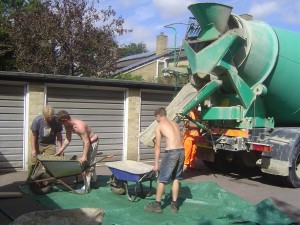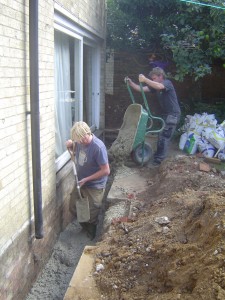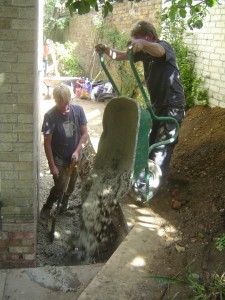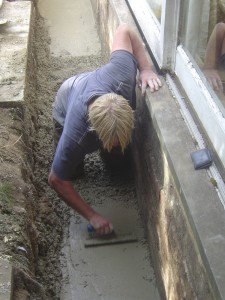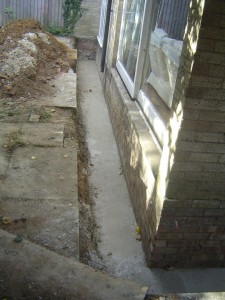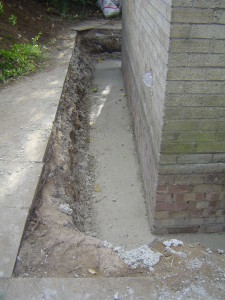 Meanwhile in our kitchen …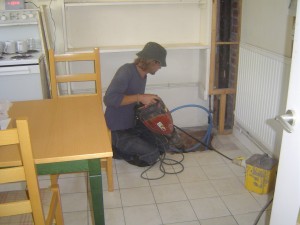 the incoming water main needed some attention.